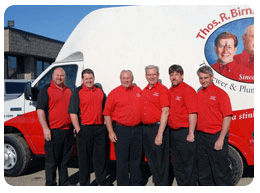 In the 1920's John Birnie established his sewer business, a trade taken over by his son Thomas. Eventually he developed the business to include his two sons, Roy and Bob.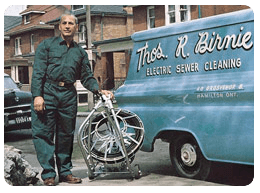 Bob and Roy proudly continue their father and grandfather's practice of commitment to quality service at a fair price. And the tradition of a business founded in family carried on when Tom, Roy, Jon, and Rob, Thos. R.'s grandsons, joined the ranks!
Of course there have been a few changes in that time. The plumbing and sewer services and products offered are now rich and extensive, meeting the growing needs of not only Hamilton, but the entire Golden Horseshoe and Tri-Cities area. A fleet of "Stinky" trucks and construction vehicles can be seen in Hamilton, Brantford, St. Catharine's, Niagara Falls, Oakville and Mississauga. Our team is larger, but still committed to a positive work environment founded on the values set by John Birnie 100 years ago. Our company continues to flourish and proudly serve our communities.