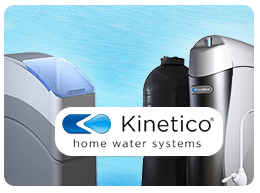 1. DRINKING WATER SYSTEMS:
Kinetico K5 Drinking Water Station®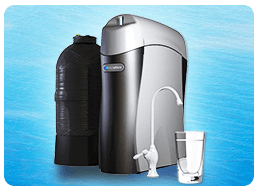 The state-of-the-art reverse osmosis system to solve even the toughest water quality challenges. The K5 is smartly designed to be convenient and economical, provide an abundant supply of high-quality water, be easy to use and maintain, and provide the best-tasting water. When you own a K5, you know you are doing all you can to provide your family with the highest water quality at the best price.
QuickFlo® Technology: QuickFlo® TechnologyThe K5 features QuickFlo® technology to deliver a strong, steady stream of high-quality water when you want it. Fact is, the K5 produces more water faster than any other comparable system so you won't need to ration or wait for your water.
99% Contaminant Removal: The K5 significantly reduces more contaminants than any other drinking water treatment unit.
Customizable, Multi-Stage Filtration: Multi Stage FiltrationYou can customize the filters in your K5 according to the specific water challenges you're facing now or that you may encounter in the future.
EverClean® Rinse: EverClean® RinseThanks to EverClean® Rinse, the K5 uses high quality water to clean itself which keeps the system in top working order and extends the membrane's life.
Exclusive Features: MacGuardAdditional features like the MACguard® Filter and PureMometer® Filter Life Indicator let you know when it's time for filter changes and prevent you from pushing the filters past their capacities. Quick-disconnect filter cartridges make changing filters a snap.
Aquakinetic® A200 Drinking Water System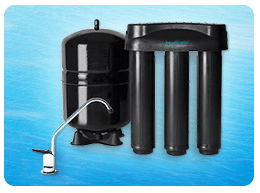 The AquaKinetic A200 Drinking Water System by Kinetico provides an excellent, economical way to improve the taste and purity of your drinking water. Its three-stage system, including a high-capacity prefilter, high-performance reverse osmosis membrane and carbon postfilter, eliminate a variety of common contaminants from your drinking water. What you're left with is clean, clear, refreshing water for all your drinking and cooking needs. The compact system can be installed under your sink, in a basement, utility room or garage-wherever is most convenient for you.
Convenient: Quick and EasyThe AquaKinetic A200 Drinking Water System is a great way to have an abundant supply of high quality and great-tasting water for drinking, cooking and other uses. Quick-disconnect filter changes are easy and sanitary.
High Daily Production Rate: High Daily Production RateThe reverse osmosis membrane produces higher quality water at a faster rate than competitive systems.
Lead Free Faucet: Exclusive FaucetThe A200 offers a lead-free faucet to dispense its high-quality water. Drinking water is dispensed via a dedicated faucet at your sink.
Kube® Advanced Water Filtration System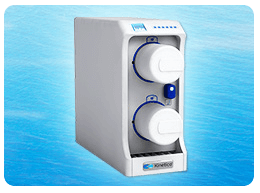 If you're tired of waiting for the pitcher to fill, and you've ruled out a reverse osmosis system as an option, take a look at Kube. Kube is certified by WQA to NSF/ANSI standards to remove many contaminants that could be in your water; including removing up to 99% of lead from your drinking water.
It installs conveniently and easily under just about any sink, so your filtered water will be dispensed from your existing faucet. You'll be impressed by the plentiful supply of filtered water that Kube provides for all your drinking and cooking needs. Kube will improve the quality, taste and smell of your drinking water and give you the peace of mind that you've done more to improve the quality of your water.
Quick and Easy Installation: DIY IconSimple DIY installation in approximately 15 minutes.
Superior Contaminant Removal: VOCKube is certified to remove more contaminants like lead than filter pitchers and faucet-mount systems.
Compact System: Compact SystemKube fits perfectly under most sinks, so filtered water can flow from your existing faucet.
Inexpensive Operation: Inexpensive OperationAt only around 4 cents per gallon, Kube water is great for all your drinking and cooking needs.
Filter Life Indicator: FilterLife IndicatorShows the remaining filter capacity and alerts you when a filter change is needed.
Quick and Easy Filter Changes: Quick and Easy Filter ChangesThe twist and lock design for Kube filters makes filter changes quick and easy.
Macguard® Filter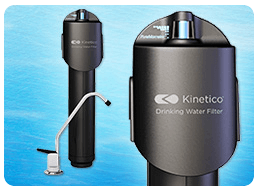 The MACguard® Filter is an excellent choice when you want to eliminate unpleasant tastes and odors while improving the quality of your water. Your water conditions will determine which of the two models is right for you.
Filter Life Indicator: The PureMometer® Filter Life IndicatorThe PureMometer® filter life indicator shows you how much of your 500-gallon filter capacity remains. When a filter change is necessary, the system alerts you by reducing the flow of water from the faucet.
Compact Design: Compact DesignThe MACguard Filter doesn't take up precious counter or refrigerator space, or attach clumsily to your faucet. It fits and operates conveniently out of the way-under your sink or from some other location. Plus, it includes a dedicated, lead-free faucet for dispensing its refreshing filtered water.
Quick Disconnect Filter: Quick Disconnect FilterChanging the filter is quick, clean and easy with Kinetico's unique design. Just a quick twist is all it takes to install a new filter.
2. WATER SOFTENER UNITS:
Kinetico Premier Series® Highlights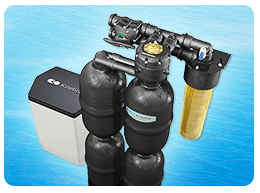 Kinetico has taken its best water softener and made it even better. With improvements that make them more efficient and effective, Kinetico Premier Series softeners are ideal for homes with challenging water conditions.
Generous Flow Rates: Designed for homes with larger plumbing and high water use, Premier Series softeners deliver generous flow rates without forfeiting water softness.
On-Demand Regeneration: One tank is always in service while the other tank is either on standby or regenerating. Premier Series systems regenerate at any time of the day or night to ensure you will always have a supply of soft water. So if you have a house full of guests or are washing multiple loads of laundry, you'll never run out of soft water.
AccuDial®: Our patent-pending AccuDial feature allows more precise system calibration to your home's specific water conditions for optimum efficiency, operational cost savings and waste reduction. It's like having a water softener that's a custom-fit for your home.
Consumers Digest Best Buy: Multiple Kinetico Premier Series Water Softeners have been rated a Consumers Digest Best Buy. Models with and without AccuDial received the designation for offering exceptional value and performance.
Kinetico Signature Series®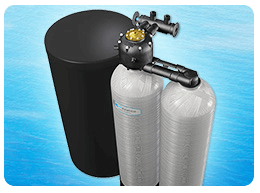 High-quality softening resin and generous system capacity mean your water issues will be history. And so will any hassles or inconveniences you may have experienced with other water softeners, thanks to Kinetico's patented non-electric control valve and on-demand regeneration. What you'll have is an unlimited supply of soft water.
Twin Tanks: Kinetico Signature Series water softeners are modeled after our original twin tank, non-electric water softeners that have been solving the water problems for millions of people worldwide for decades.
Non-Electric Operation: Powered by water flow (kinetic energy) instead of electricity, there are no electrical components to repair or replace. You can count on Signature Series water softeners to solve your hard water and soluble iron problems without creating new ones.
On-Demand: The beauty of a Signature Series water softener is its ability to monitor your water use and regenerate (clean) itself only when needed. If you use a lot of water, your water softener will regenerate more, or it may not regenerate for several days if water usage is low. This efficient approach saves salt, water, money and guesswork.
Softwater, Countercurrent Regeneration: Signature Series water softeners regenerate using soft water. With soft water regeneration, your system will work better and last longer.
Kinetico Essential Series®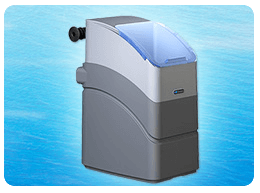 Kinetico has packed the power and ease of non-electric operation into a single-tank water softener. Essential Series systems will handle basic water conditions without the need for a timer, clock or computer. Thanks to its sleek, compact design, it's the perfect solution where a more robust system isn't really necessary but reliability is.
Non-Electric Operation: Like other Kinetico products, Essential water softeners operate using water power, not electricity. So you can forget about clocks and timers. No more setting, adjusting or repairing, and no more headaches. It's that simple.
Rapid Regeneration: Regeneration occurs in a fraction of the time it takes other softeners to come back into service.
Specifically Designed For Your Home: With the patent-pending AccuDial feature, Kinetico Essential Series models are calibrated to function with fine-tuned efficiency. It's like having a water softener that's custom-designed specifically for your home – without the custom price.
On-Demand Regeneration: Like other Kinetico water softeners, these systems monitor your water usage and regenerate (clean themselves) only when necessary.
Powerline™ Series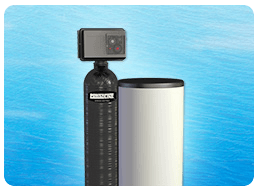 Tough on hard water and iron, easy on the budget. Electric, single-tank option is for those who prefer a more traditional method of softening water. These systems require a bit more attention from you, but they get the job done.
12-Day Timer: This single-tank electric system features a 12-day timer that puts you in control of when and how often the unit should regenerate.
Single-Tank Electric System: Powerline Series systems are tough on hard water and iron but easy on your budget. With a variety of models to choose from, they're ideal for people with more predictable water use.
Sulfur Guard™ Backwashing Filter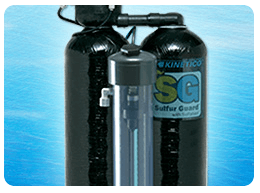 Sulfur Guard filters provide a turnkey remedy for handling foul-smelling "rotten egg" water. Unlike other systems that use multiple treatment stages and are expensive, cumbersome and complex to maintain, there's not much to do with a Kinetico Sulfur Guard™ filter but enjoy your water.
Dual Tank System: Dual tanks accommodate higher flow rates needed in multi-person and larger homes.
Non-Electric Operation: Moving water is the power source, not electricity, so operation is simple and reliable. There are no timers or computers to set, adjust, repair or replace.
Whole-house Reverse Osmosis Membrane System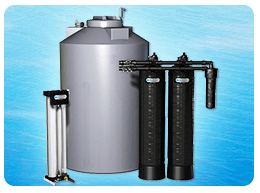 The semipermeable membrane in the system traps contaminants, iron, hardness and odor-causing impurities, leaving you with perfectly clean, clear water. Our system picks up where other water treatment options have failed.
Non-Electric Operation: Our systems are powered by the force of moving water and not electricity for a patented "unplugged" approach to treating your water.
Unmatched Performance: Improve your water more efficiently, effectively and economically without spikes in performance.
Tailored to You: We take the guesswork out of water treatment. Your local Kinetico water professional will analyze your water and suggest options that fit your needs.
Budget Friendly: Our systems create less waste and last a long time, which means they are good for you, your home, the environment and your wallet.
Dechlorinator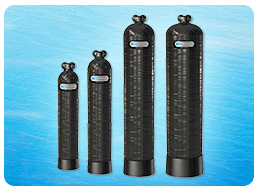 Single-tank unit is a simple solution for whole-home chlorine removal. It's the perfect addition to a Kinetico water softener installed on a chlorinated water supply.
Chlorine-Free Water: The system provides chlorine-free water to every faucet in your home, while also protecting your water softener from the harsh effects of chlorine.
Single Tank: The single-tank Dechlorinators are ideal for homes with lower water flow demands.
3. LONG-LASTING UNITS
Instead of using electrical units which often break and are costly to maintain, we offer you a completely electric free units which operate only by moving water. Increase the longevity of your pipes, appliances, fixtures, clothing for years by using Kinetico systems.
4. GREAT WARRANTIES
Our experienced technician will install Kinetico system at your home professionally, following Kinetico's recommendations and provide you with great warranties.
5. TRUSTED FOR 100 YEARS
Birnie & Sons has been trusted in Hamilton and across the Golden Horseshoe for over 100 years.
Call Birnie & Sons Plumbing today to install a water softener for your home in Hamilton and across the Golden Horseshoe region.