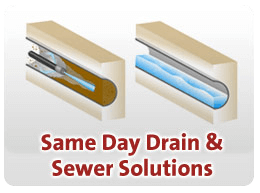 1. Same Day Drains and Sewer Solutions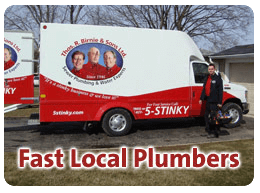 If you have a blocked drain or sewer issue you'll appreciate it being resolved as soon as possible. At Birnie & Sons Plumbing, we are available 24/7 to provide you with a rapid response to your emergency drain and sewer needs. Our fleet of fully-stocked service vehicles are on stand-by across your local area so we can be with you fast, today, when you need us, to provide the perfect drain or sewer issue solution.
2. Hydro-Jet Drain and Sewer Cleaning
Our hydro-jetting service is an incredibly effective way of removing stubborn blockages from your drains and sewers whilst thoroughly cleaning the line to reduce the risk of blockages re-occurring.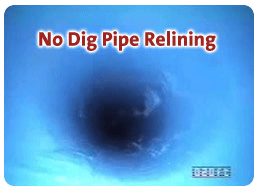 3. Trenchless "No Dig" Sewer Repairs
If you have a leaking sewer, we can perform a fast and effective repair that saves your driveway, sidewalks and landscaping from destructive digging with the use of our trenchless solution which requires absolutely no digging. Read more here.
4. Video Inspection Technology
Birnie & Sons Plumbing has invested in the very latest fiber-optic video inspection technology to be able to go inside your drains and sewers and see exactly what the problem is and where it is located. We can then offer the most effective solution and you can even see what's happening in your drain for yourself throughout the service from first inspection to completion, as well as being able to provide you with your own DVD report.
5. Sewer Video Inspections Before Buying A New Home
We can video the sewer of the home you may be considering purchasing before you buy. This will show the current condition and if there are any possible problems and could save you from discovering only after your basement has been flooded and irreplaceable items, such as photos, destroyed.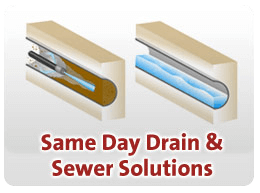 6. Invasive Tree Roots
We have a number of innovative solutions for dealing with invasive tree-roots such as rooter machines, hydro-jetting and video inspection cameras to ensure we completely remove invasive tree roots, repair any damage caused and prevent them from coming back.
7. New Sewer Connections
If you require a new sewer connection we can ensure it is completely code-compliant and connects perfectly with the city's main-line.
8. Locating Technology
If you've lost something down the sewer or drain line, we can help you locate them again with the use of the latest in sewer and drain locating technology.
9. Bio One Technology
The most environmentally effective way to keep your Drains Running free and clear. Exclusive to Birnie & Sons Plumbing in our area.
10. Drain and Sewer Experts
Birnie & Sons Plumbing have extensive experience with the drains and sewers in your local area and we are a fully licensed and insured company for your complete peace of mind.
11. Up Front Pricing
You'll appreciate our up-front pricing by the job, not the hour - with quotes in advance to allow you the benefit of making an informed decision.
For expertise and experience for your drain and sewer needs in Hamilton and across the Golden Horseshoe region, call and speak with the drain & sewer specialists at Birnie & Sons Plumbing today.